Author:
Collin Kourtz
The Moral Minute: Audio Reflections by Fr. Petri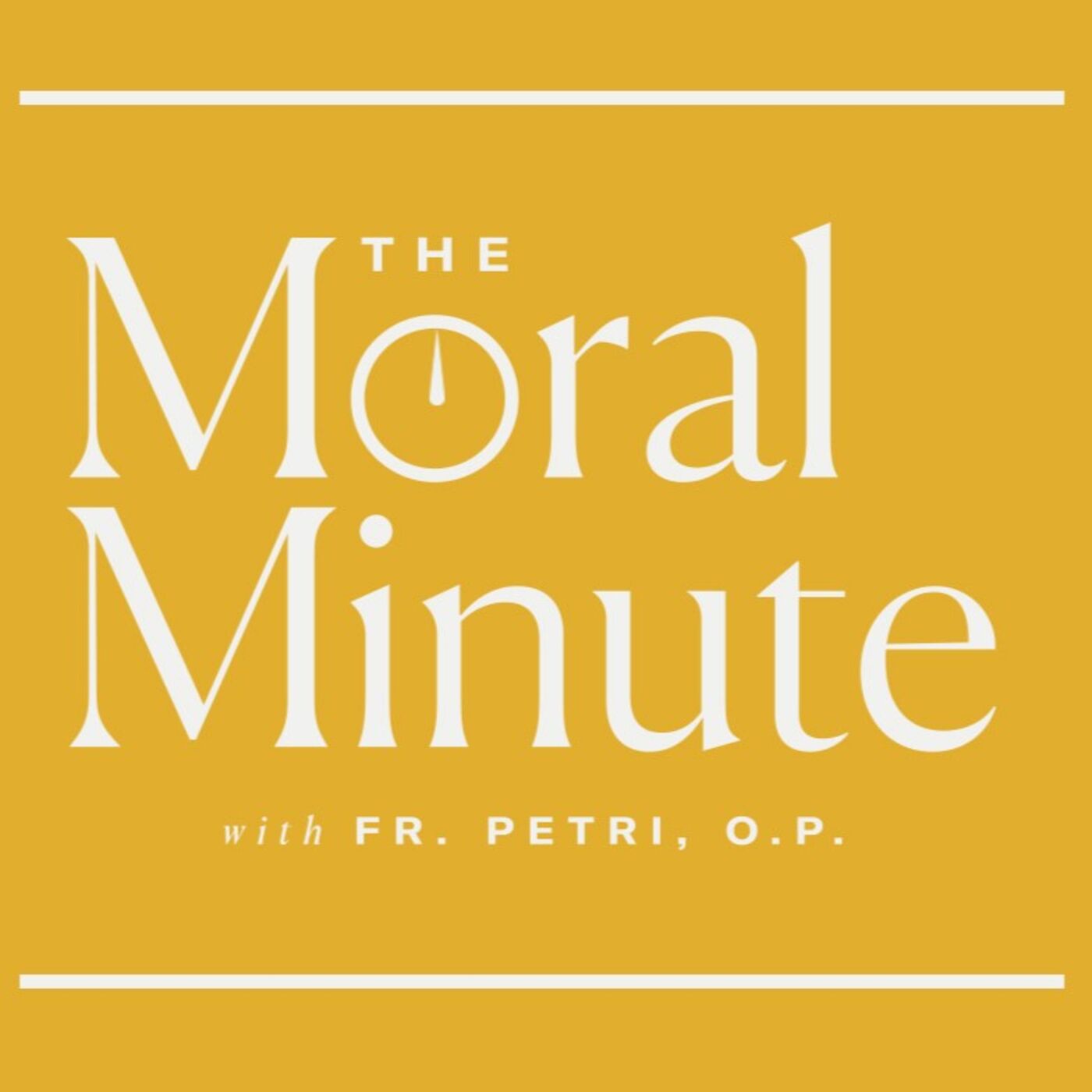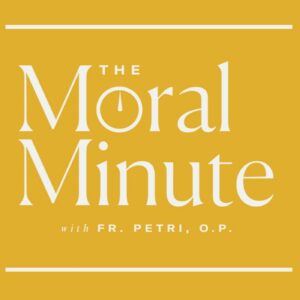 Video
Alumni Video Testimonials
Collin Kourtz

3 Inspiring Alumni Stories
It All Starts at the DHS
In this new video, DHS alumni reflect, in gratitude, on the invaluable role the DHS has played in their vocations to bring clarity over confusion.
Both nationally and internationally, our alumni bear a charitable and unflinching witness to the Gospel in many different roles: as chaplains, as pastors, as middle school teachers, as professors at seminaries and universities.
And, though love for Christ and His Church directs these men and women into very different roles, this work, vital for the renewal of our society and our Church, all starts at the Dominican House of Studies.
Here, at the DHS, young men and women who are ready to devote their lives to the service of Christ receive the intellectual confidence and unshakable foundation needed to draw our confused and divided world closer to the clarity and charity of Christ.
Clarity over Confusion
Confusion is a consequence of sin. We see its effects plainly. This confusion divides our society. It threatens the minds of professors, politicians, priests, and prelates. And it seeks even to rend the Church apart.rnrnThe antidote for the confusion of sin will always be Christ, Who is Truth Himself.rnrnSince their founding, Dominicans have worked tirelessly to combat confusion in every age and in every arena. Ministering to a society that suffers so greatly from the confusion of relativism and the divisiveness of sin, Dominicans bear steadfast witness to the unchanging reality of Truth, the radical intelligibility of the Gospel, and the unifying power of Christ.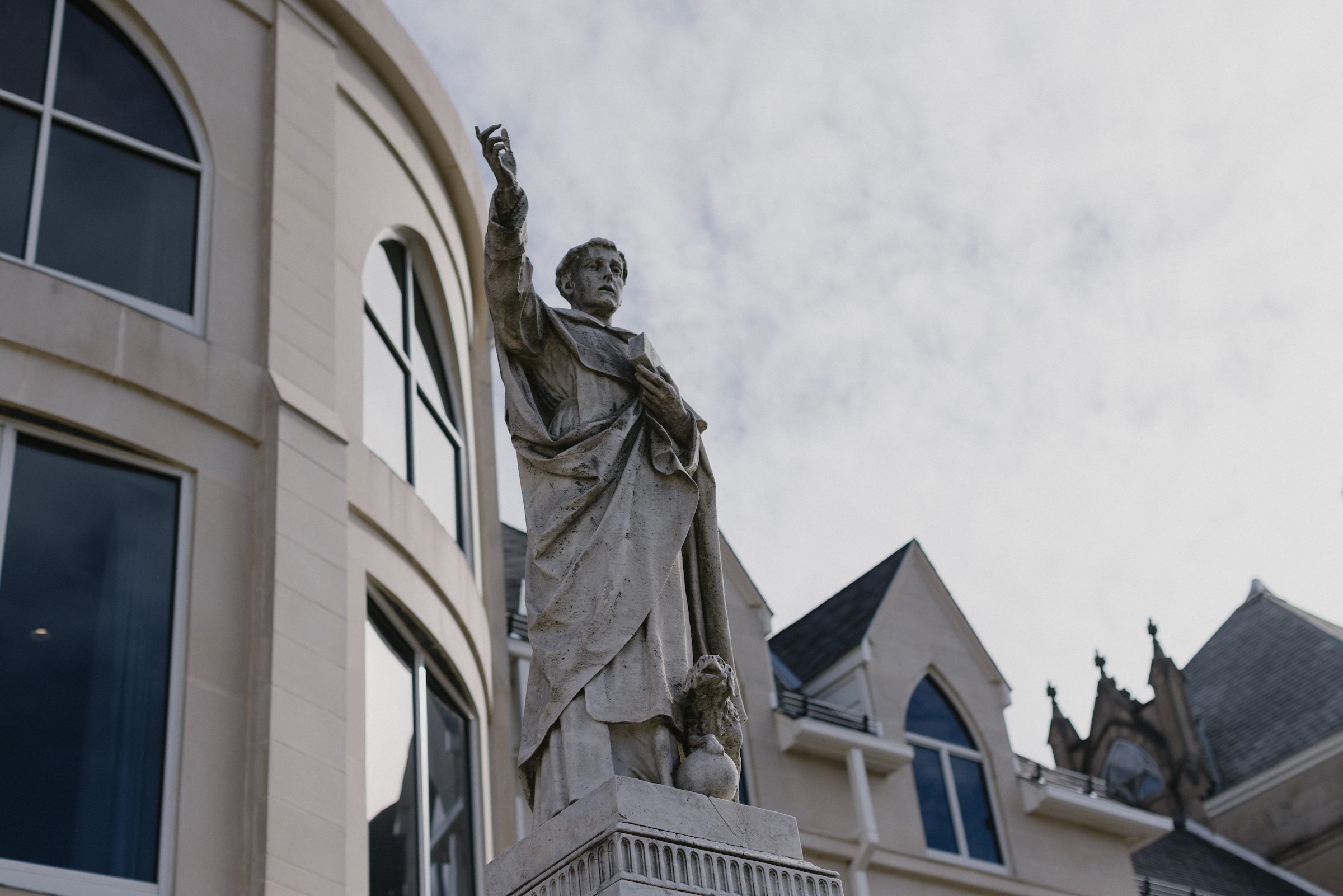 A Timeless Mission
Ministering to a society that suffers so greatly from the confusion of relativism and the divisiveness of sin, Dominicans bear steadfast witness to the unchanging reality of Truth, the radical intelligibility of the Gospel, and the unifying power of Christ.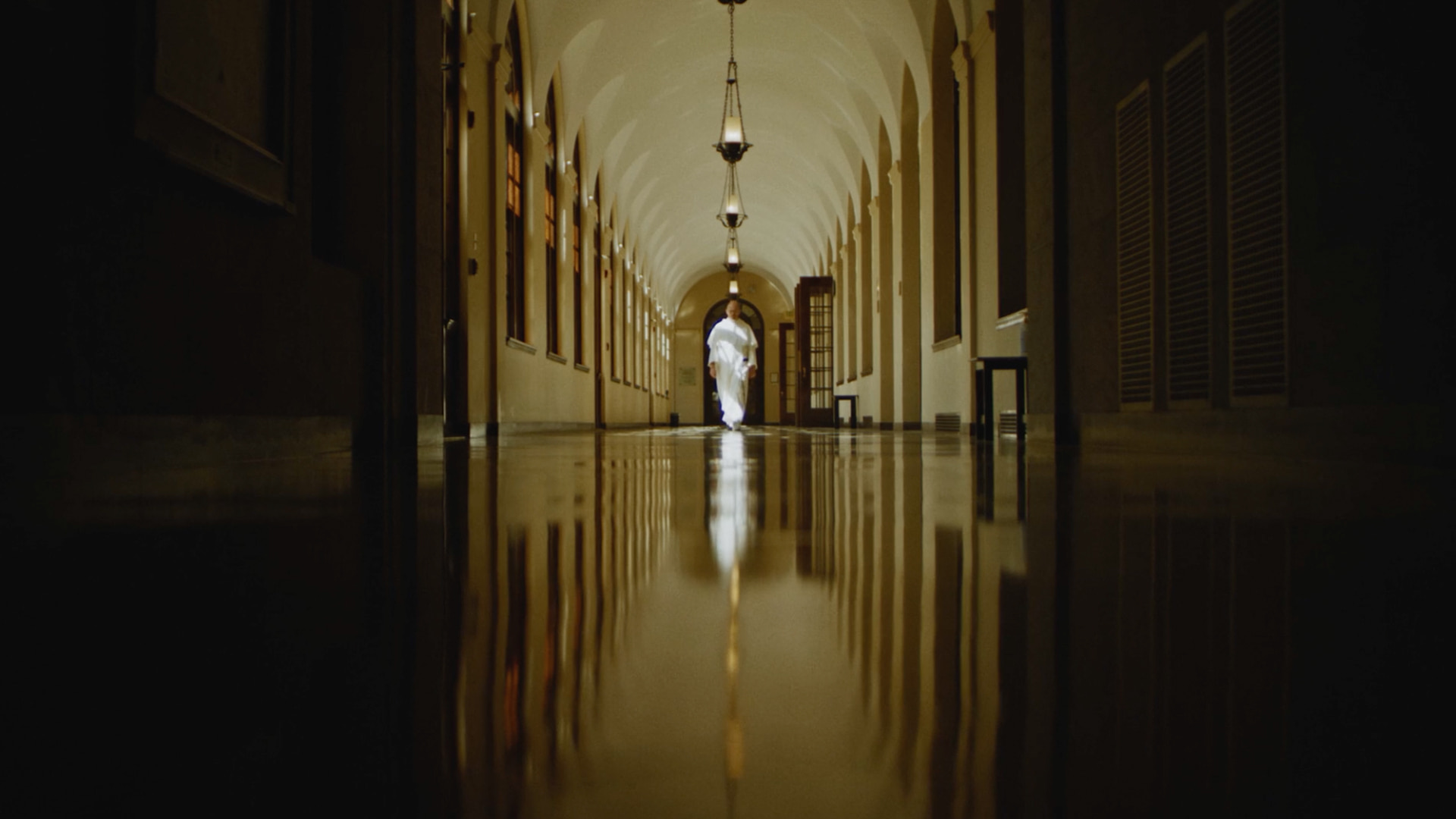 Collin Kourtz
Dominicana
When Johnny Comes Marching Home
Collin Kourtz
They are almost all gone: the boys who stormed the beaches of Normandy, the boys who saw hell rained down on them at Midway, the living remnant. With each Veterans Day parade, we see fewer and fewer of our veterans of the Second World War. Before they are all gone, let us not fail to honor them—let us give thanks to God for them and all our veterans and the lessons they have taught us.
"We have heard, O God, with our ears: our fathers have declared to us,
The work, thou hast wrought in their days, and in the days of old" (Ps 43:2).
When they were boys, they watched parades, too. Veterans of Gettysburg, San Juan Hill, and the Argonne Forest told them stories of suffering and valor. When their own hour came, they answered the call. Battles, catastrophes, great campaigns, wars that shaped our country—they really happened, and these men experienced them firsthand. Their memories and stories are our heritage as Americans.
The great deeds they accomplished were not really of their doing. They lent their hands to a greater power. They joined the fight against fascism, despotism, communism, and all that would destroy our liberty. The good they accomplished was simply part of the goodness of God's loving providence.
Often when you meet veterans, you are immediately struck by their perspective on life. They have seen great evil and ugliness. They have danced with Death herself. Yet they know intimately of God's goodness: their lives are the very proof of his mercy. Thanksgiving for our veterans should always lead to thanksgiving for God's gifts.
For many, however, life post-combat is anything but sunny. Sadly, many of the men and women who offer their very lives to protect this nation suffer from trauma, addiction, and depression and are lying homeless on our streets. The battles they fought on the field are replaced by new battles within. Let us lift them up most of all, in material aid, in our esteem, and most especially in our prayers.
The veteran's trials and triumphs are an example to each of us. The combat we wage each day in the name of Christ, the combat against sin, can be fought out to absolute victory, so long as we trust completely in God's graces and fight valiantly.
"Arise, why sleepest thou, O Lord? arise, and cast us not off to the end.
Arise, O Lord, help us and redeem us for thy name's sake" (Ps 43:23, 26).
The bravery of Americans on the battlefields of the past—this forms part of the foundation of our country. We Americans can consider ourselves fortunate that war is not a daily reality for us today (would that this were true for Ukrainians). God grant it stay that way! But let us not ignore those brave fighting men and women—for whom it was a reality—until it is too late. They convey a lesson for each of us, be it through missing limbs, fireside stories, or, perhaps, a yearly march come November.
✠
Photo by U.S. Marine Corps
Originally posted on Dominicana Journal
Collin Kourtz
Video
A Video Tour of the Dominican House of Studies
Collin Kourtz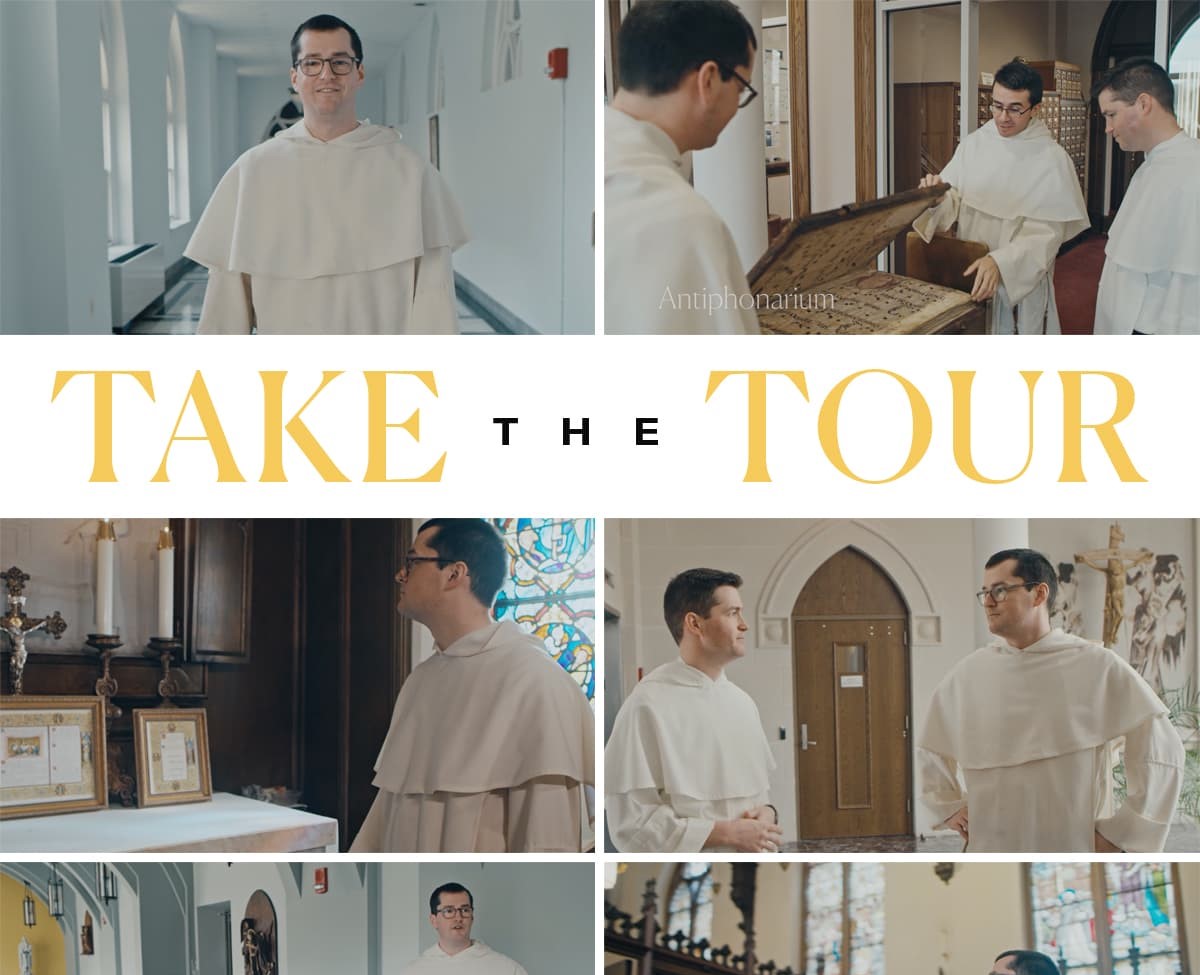 Why do you wear a habit? What's a Rood Screen? What is a book every Catholic should read? How do you prepare for a homily? Are you a Jedi?
As preachers and teachers, Dominicans get asked a lot of questions.
Join Dominican brothers (and real-life brothers), Fathers Simon and Jonah Teller as they answer these questions—and many others—during an inside look at the Dominican House of Studies.
Tour the St. Thomas Chapel and practicum studios, St. Joseph Chapel, main chapel, monastic cloister, academic center, and library — home to over 65,000 books and an antiphonarium from the 1600s! (What's an antiphonarium?) Get your questions answered on this upbeat tour with the Teller brothers!
Clarity over Confusion
Confusion is a consequence of sin. We see its effects plainly. This confusion divides our society. It threatens the minds of professors, politicians, priests, and prelates. And it seeks even to rend the Church apart. The antidote for the confusion of sin will always be Christ, Who is Truth Himself. Since their founding, Dominicans have worked tirelessly to combat confusion in every age and in every arena. Ministering to a society that suffers so greatly from the confusion of relativism and the divisiveness of sin, Dominicans bear steadfast witness to the unchanging reality of Truth, the radical intelligibility of the Gospel, and the unifying power of Christ.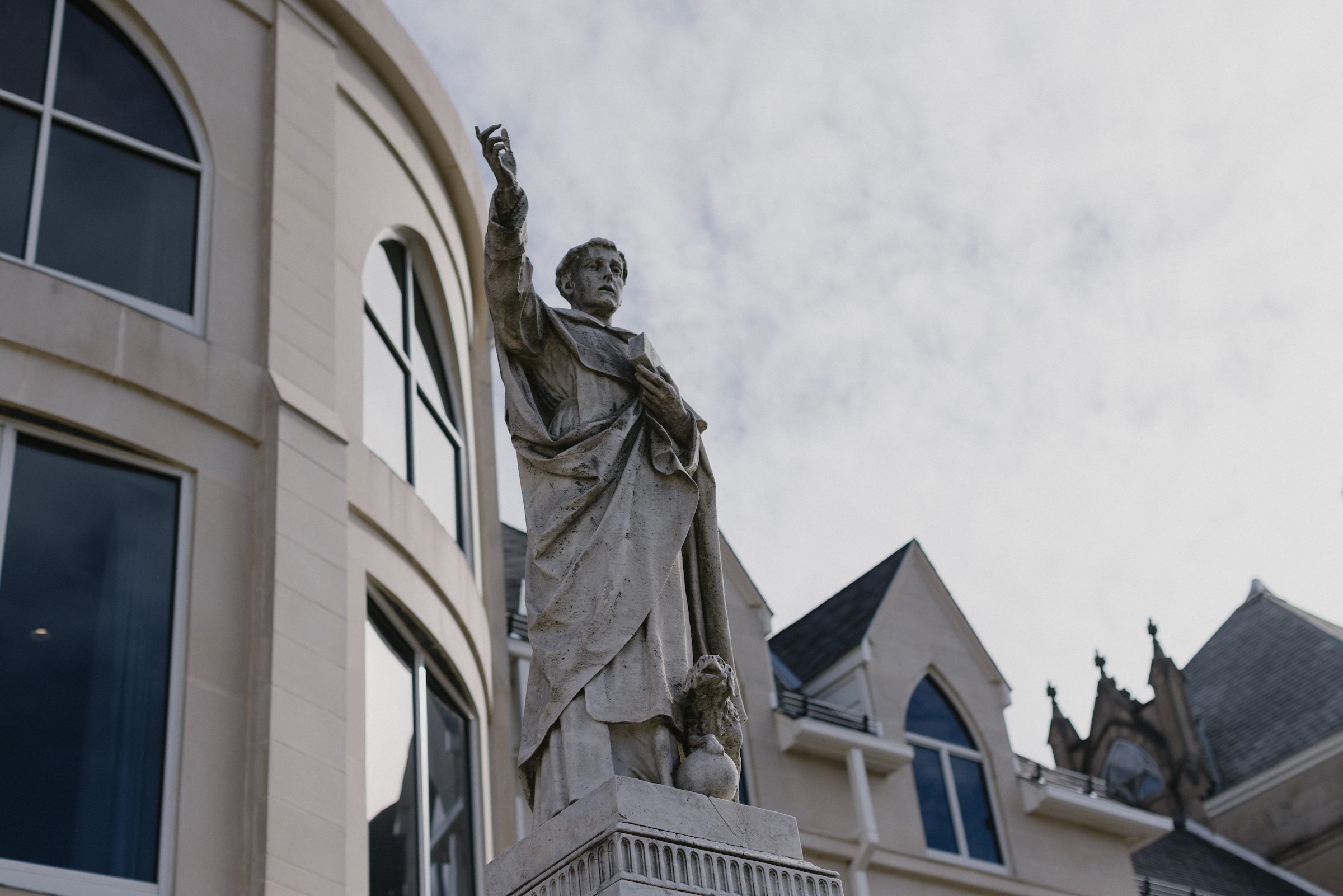 A Timeless Mission
Ministering to a society that suffers so greatly from the confusion of relativism and the divisiveness of sin, Dominicans bear steadfast witness to the unchanging reality of Truth, the radical intelligibility of the Gospel, and the unifying power of Christ.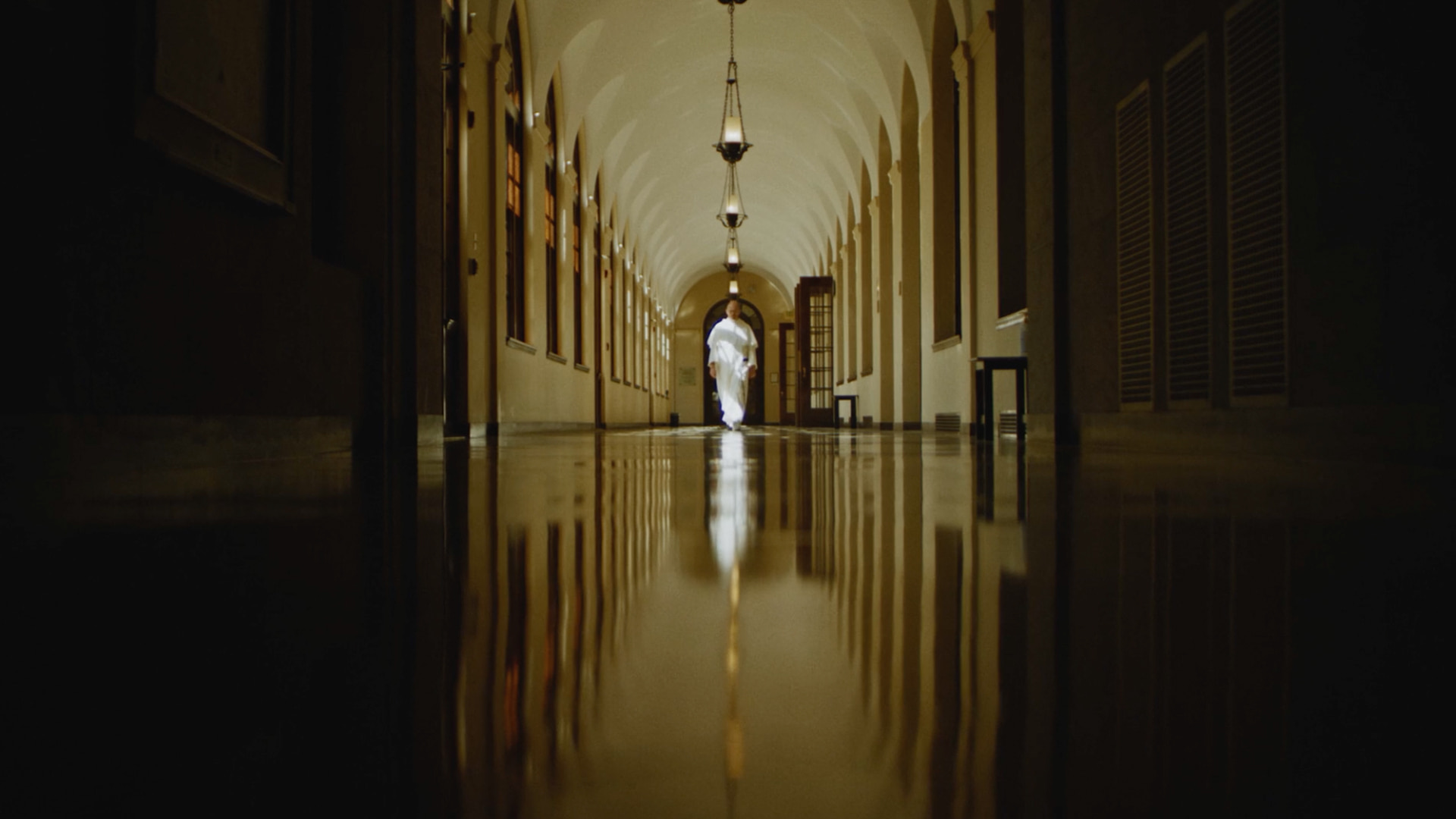 Collin Kourtz
Dominicana
An Autumnal Fascination with Satan
Collin Kourtz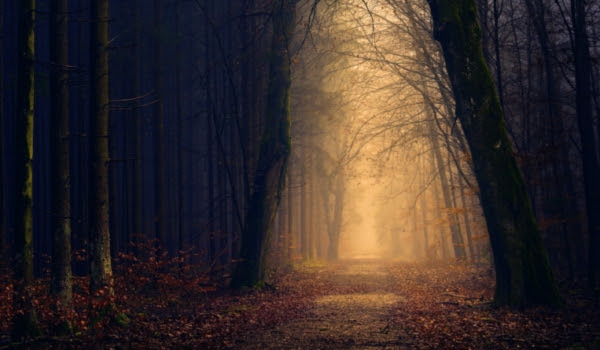 'Tis the season for cardigans and jack-o-lanterns, orange leaves and autumnal foods. As we enjoy cool weather and pumpkin spice lattes, we are reminded why fall is objectively the best season of the year. But this season also has a spookier side that begins to appear as we approach the cultural feast day of Halloween. While leaves are falling, imitation webbing is going up. As we put on sweaters, we put out skeletons. Ghosts are appearing and spiders are crawling.
While many celebrations at this time of year are innocent in themselves, Halloween is a time when a more sinister obsession comes to the fore: the devil. Modern man is fascinated with Satan and his demons, so much so that, whether he believes in the devil's existence or not, he will consider wearing a demon costume to a party or watching a horror movie about demonic possession. As Catholics, we rightly respond to this obsession with an emphasis on spiritual warfare and the importance of sacramentals and the Prayer to Saint Michael. The devil is real and not to be messed with.
But what if the real horror of the season is that this obsession with Satan is only a distraction? What if other enemies of evil are lurking in the shadows or even—unbeknownst to us—already have us in their clutches?
As it turns out, the devil is only one of the foes we face as Christians. In the shadows of society and the corners of our hearts you'll find the other two: the world and the flesh.
The world draws us in by tempting us to accept its own values as the meaning of our lives—that we are meant merely to make a lot of money, find fulfillment in human love, and follow the passing fads of our day. "Do you not know that to be a lover of the world means enmity with God?" asks Saint James. "Therefore, whoever wants to be a lover of the world makes himself an enemy of God" (Jas 4:4).
The flesh allures us into using our bodies and passions as the sources of our happiness. When we are obsessed with food, drink, and sex or are driven by our passions and desires, we have been overcome and conquered by our own flesh. Saint Paul exhorts us to put this enemy to death: "Now those who belong to Christ have crucified their flesh with its passions and desires" (Gal 5:24).
In this cozy and creepy season, our spiritual battles are not against Satan alone. While society is fixated on the devil, the real horror is that it seems not to notice that it is already in the clutches of two other foes. Satan is only one-third of our battle. We must contend with the world and the flesh, as well.
✠
Photo by Johannes Plenio
Originally posted on Dominicana Journal
Collin Kourtz
Dominicana
Sanctuary Lamp
Collin Kourtz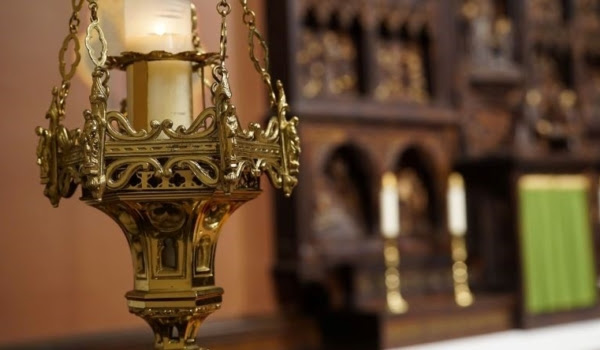 Signs are everywhere in our daily life. We look to signs as a way of navigating our daily lives. Oftentimes a sign seems to go unnoticed until it disappears, malfunctions, or is disobeyed. Consider a traffic light. It serves an important function in navigating city streets; without it chaos would ensue. Despite its role it is something that receives little attention and is easily taken for granted—that is, until it stops working. If a storm knocks out the power, the flashing yellow lights at a busy intersection can lead to the dangerous situation of hesitant drivers who no longer know what to do. Some signs require a certain amount of knowledge to understand; others seem pretty much universal, like a smile or a wave.
A Catholic Church is full of signs. The windows, paintings, statues, and altar all point to something greater than themselves. They remind us and direct us to truths that are not always immediately apparent, but which, by faith, we grasp as efficacious and important to our daily lives. Holy Water reminds us of the life and grace given to us in baptism. Statues of the saints evoke their gifts and remind us of their heavenly intercession. The crucifix reminds us of the ultimate sacrifice of Jesus Christ for our salvation.
Of all of the signs in a church there is one in particular that I propose is the most neglected, yet which is strikingly universal and irreplaceable in its significance. Next to each tabernacle reserving the Blessed Sacrament, there burns a steady flame, sometimes white, sometimes red, but always communicating the same thing: Jesus Christ—body, blood, soul, and divinity—dwells here. This is the only permanent sign in the church that, in a sense, could be considered alive. The flickering flame represents the burning love which gave us such a sacrament, such a presence among us, fulfilling Jesus' promise that he will indeed be with us always (Mt. 28:20).
The task of the sanctuary candle is remarkably simple, yet by its very presence it conveys a mystery beyond understanding. Such a simple thing, it is profoundly evangelical. It proclaims Christ's consoling presence among us, it communicates the efficacy of the Blessed Sacrament, and it designates the holiness of the sacred space. As Christians we are always striving to conform our life to Christ's and, in a way, we can also strive to be like this sanctuary candle. With a simple, faithful flame it proclaims Christ to those who look for his presence, whether during a weekly visit for Sunday Mass, or when in desperate need of the consolation of Christ's presence in a time of crisis. The simple candle has not the eloquence of the chalice, the altar, the reredos, or even the tabernacle whose presence it communicates. We too may find ourselves with a simple task, living a simple life, and perhaps wishing we had a greater task with more responsibility and attention. May we too let Christ shine in us so that we become as living flames signifying his presence to the world.
✠
Photo by Br. Benedict Hernandez, O.P. (used with permission)
Originally posted on Dominicana Journal
Collin Kourtz
Dominicana
A Reliable Aid in Every Age
Collin Kourtz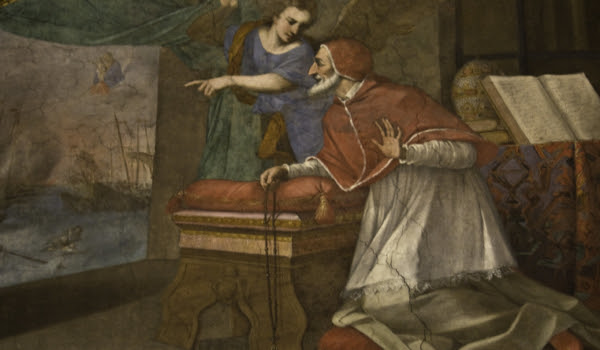 Imagine a religiously uninformed millennial stopped in traffic behind a car with a bumper sticker that says,
HELP AMERICA
PRAY THE ROSARY
(Anyone who has spent time in a Catholic church's parking lot knows this sticker—the wind-blown American flag in the background, the fragile-looking chain-link rosary to the left.)
Now, suppose this irreligious driver has never heard of the rosary but, after reading this bumper sticker, decides to do some research. He finds a set of instructions and, after reading about the prayers, the mysteries, and the beads, says to himself, "This? Doing this is going to help America?"
For us Catholics, the answer to this man's question is a vehement "yes!" We believe that God—who uses the weak to shame the strong (cf. 1 Cor 1:27) and who casts down the mighty but lifts up the lowly (cf. Luke 1:51)—chose Mary, a lowly virgin from Nazareth, to be the mother of Jesus and has crowned her as heaven's most powerful intercessor. This same God, moreover, has also willed that, through the rosary (so bizarre and unsophisticated in the eyes of unbelievers), Mary should accomplish many mighty deeds and be a source of aid for Christians in their every need.
The Church commemorates one such mighty deed today on the feast of Our Lady of the Rosary, which marks the victory at the Battle of Lepanto on this day in 1571. Though outnumbered, Christian forces defeated a massive fleet of Ottoman invaders at sea, after Pope Pius V ordered that churches and monasteries keep vigil and urged all believers to pray the rosary for the welfare of Christendom. Pope Leo XIII recounts the illustrious event in his 1883 encyclical Supremi Apostolatus:
And thus Christ's faithful warriors, prepared to sacrifice their life and blood for the salvation of their faith and their country, proceeded undauntedly to meet their foe near the Gulf of Corinth, while those who were unable to take part formed a pious band of supplicants, who called on Mary, and unitedly saluted her again and again in the words of the Rosary, imploring her to grant the victory to their companions engaged in battle. Our Sovereign Lady did grant her aid; for in the naval battle by the Echinades Islands, the Christian fleet gained a magnificent victory . . .
Pope Leo XIII saw that the late nineteenth century was no less threatened by calamities and dangers than the time of Lepanto. Confident that the Blessed Mother still stood ready to lend her aid, he hoped to spur Catholics to take up their rosaries once again and beg the favor of the Mother of God for the Church and the world.
Today's feast, along with many other miracles attributed to the rosary, should likewise induce us to cling to those beads. Heeding the advice of many popes, saints, grandmothers, and bumper stickers, we ought to call upon her whose intercession has power, both yesterday and today, to overcome plagues, wars, heresies, and—yes—even to help America.
✠
Photo by Fr. Lawrence Lew, O.P. (used with permission)
Originally published in the Dominicana Journal
Collin Kourtz
Dominicana
God the Chess Master?
Collin Kourtz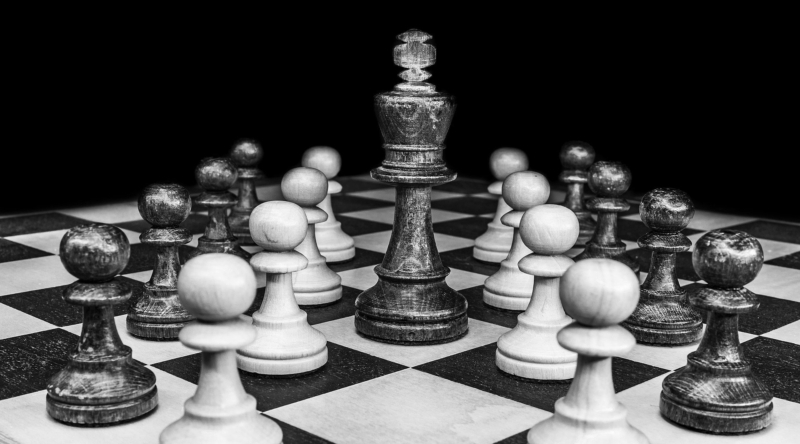 Imagine if God's will for you unfolded like a chess game. God is the grandmaster, and you are the amateur who desires to perfect your long game. God anticipates every move you make and responds in a way based on your choice. He wants you to win the game so he sets up the board each time for you to achieve your checkmate. You leave the table feeling like God and you have a good relationship. His actions depend on your choices and the result is a give-and-take between you and God that preserves your freedom and helps you to achieve your goal.
Many people think about God's will in a manner similar to this chess game. Thankfully, this is not how God's will works in the human person. There is no "give and take" between God's action and our action. To think of God as a chess master obscures the correct understanding of divine motion. God's will moves us in every free action of our lives. How or why he moves us does not first depend upon "our move." Rather, God's infinitely wise and loving will is the very principle that actualizes every natural or supernatural move that we make.
God's will moves man both according to his nature and according to his supernatural end. In the realm of nature, we call this motion a divine natural aid. In the supernatural realm, this movement is properly a grace. Both kinds of movement begin in the will of God and terminate in their respective natural and supernatural ends. Furthermore, neither type of movement moves the human person in a deterministic way. Instead, God moves us in a way that initiates and preserves our ability to act freely as human persons. Because we are created and sustained in being by God, we are dependent upon him for our every act. We need divine natural aid to do natural things. The natural mode of divine aid activates our capacities to think, choose, and freely do good things naturally. Without God's natural aid, we would cease to act freely or even to exist.
Grace, on the other hand, is a central principle to understanding how we advance in the spiritual life toward our supernatural end of heavenly beatitude. Specifically, God gives us actual graces that move us to do supernatural acts. Without the help of actual grace, we would make no progress in the spiritual life. We can only make real acts of faith, hope, and charity, for example, when moved by actual grace. These acts bring us closer to knowing and loving God as he is in himself.
In the end, our chess game metaphor fails to justly articulate the divine motion of God. God is not a chess master awaiting your next move in the game before he acts. It's his will, not ours, that determines when and how he moves us, and a divine foreknowledge of our choices does not condition God's action. In the challenges and difficulties of everyday life, it is easy to forget this truth about God's loving will and to overestimate the independence of our own human will. In these moments, we pray for the actual grace to know and love God with a freedom that is real and yet entirely dependent on God moving us first.
✠
Photo by Felix Mittermeier on Pixabay
Originally published in the Dominicana Journal
Collin Kourtz
Dominicana
Eucharistic Concomitance and the Resurrection
Collin Kourtz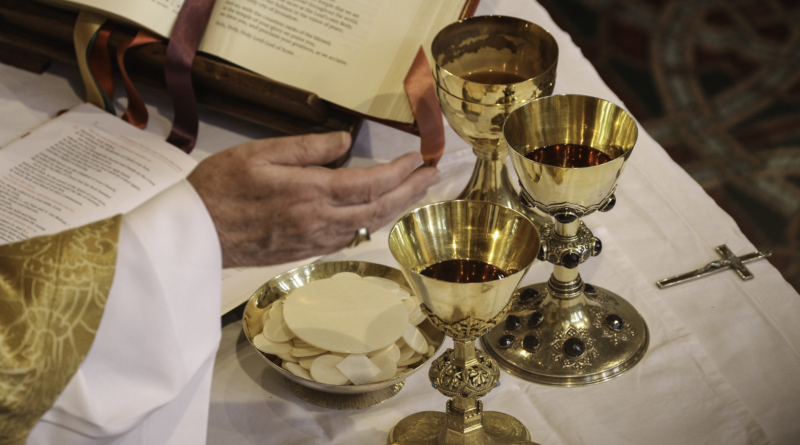 When we speak about Jesus, the "Lord of glory" who "became flesh and dwelt among us" (1 Cor 2:8; John 1:14), we often use rare words or phrases specially crafted to express the mystery of his being. Hypostatic union is one of them: the two natures of Christ are united in his one person. Consubstantial appears every Sunday in the Creed: the Father and the Son are one in substance. We would also do well to restore concomitance to our collective vocabulary. The doctrine of concomitance, taught in 1551 by the Council of Trent, captures a marvelous truth about the Eucharist and thus about Christ who "being raised from the dead will never die again" (Rom 6:9). During our nation's Eucharistic revival, thinking through concomitance can and will inflame our devotion to Jesus in the Blessed Sacrament.
At first glance, concomitance may seem simple. The Son of God becomes fully present—Body, Blood, Soul, and Divinity—under both sacramental species used at Mass. What used to be bread and what used to be wine are equally, substantially changed into our Lord by his own divine words. Only the species or "forms" of bread and wine remain. Therefore, according to concomitance, we do not receive "more" when we receive from both the chalice and the host, nor "less" if only from one. This doctrine is practically important especially when both forms are newly offered (or newly discontinued) for the communion of the faithful. In Holy Communion, the whole Jesus is always received under either form.
If concomitance is true, then why have two forms? The priest consecrates bread and wine separately in imitation of Christ, who did so at the Last Supper and told us to do what he had done. Christ gave his Body and Blood to the disciples separately precisely because this Body and Blood would soon be separated for them, in the free outpouring of his redemptive love. The Mass is a sacrifice because it is this one sacrifice, the unique sacrifice on the Cross. The daily offering of sacramentally separate Body and Blood reveals and makes present the one sacrifice of Calvary, so that we may all join in Jesus' self-offering to the Father.
While making present the awesome mystery of the Cross, the Mass never turns back the clock on our redemption. For Christ has only one body, and in the Eucharist precisely this human body is signified and offered. On the cross, Jesus' body and blood were separated. In death, his human soul was separated from both. But on the third day, for his and our glory, the one body of our Savior was raised and exalted, in the real re-union of his real humanity. This body ascended into heaven and sits at the Father's right hand. And it is this body that Christ offers us at every Mass.
Concomitance signals this reality. We receive the Body and the Blood separately, commemorating the Passion of our Lord. But we know by faith that Jesus Christ, the eternal Word with his assumed human nature whole, resplendent, and never more alive, now dwells forever in the glory to which he calls us. We cannot hear enough that it is this one, risen Body that we receive in Holy Communion, or that it is to this glory that it will lead us.
✠
Photo by Fr. Lawrence Lew, O.P. (used with permission)
Originally posted on Dominicana Journal
Collin Kourtz
Dominicana
The Meaning of Life
Collin Kourtz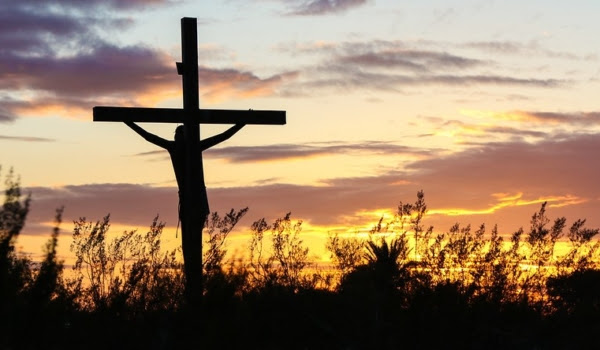 No, it's not 42.
Regardless of whether one gets the reference, it should be obvious that such an absurd answer to the question of life's meaning was meant as a joke. Yet, the fact that this joke has enjoyed such wide appeal reveals an unhappy state of affairs: most people actually don't know the meaning of life. Even worse, it seems that more and more people, influenced by pseudo-scientific and pseudo-philosophical ways of thinking, believe either that life has no meaning or that life's meaning is constructed by each individual person.
But nothing could be farther from the truth.
Admittedly, it is difficult to discover and prove the meaning of life, and even then rarely without some error creeping in along the way. But it is possible, and we see this in the writings of some of the greatest philosophers, Plato and Aristotle for example. Each in their own way, they prove that the end, or meaning, of life is to know God and imitate him as far as humanly possible.
Thankfully, however, one need not be a philosophical genius to know all of this. God, well aware of the frailty of the human mind after Adam's sin, has chosen to reveal it to us. Furthermore, he reveals not just the natural, human end of life but he also calls and invites each of us to a far greater end, one that surpasses all our natural desires.
It was to reveal this higher meaning of life that he manifested himself to the Patriarchs, bestowed the Law through Moses, and instructed his people through the Prophets. And not content to speak with us only through others, when the fullness of time had come he sent forth his Son, born of a woman, in order to instruct us himself: "I came so that they might have life and have it more abundantly…. Now this is eternal life, that they should know you, the only true God, and the one whom you sent, Jesus Christ" (Jn 10:10; 17:3).
This, then, is the ultimate meaning of life: to know and love God as he knows and loves himself; to know and love God as a friend.
In testimony of this teaching—as an act of mercy for our doubting hearts—Jesus became obedient for us unto death, even death on a cross, for "No one has greater love than this, to lay down one's life for one's friends" (Jn 15:13). So the next time someone broaches the topic of life's meaning, look no further than the cross, upon which the love of Love himself is so wonderfully displayed.
Sing, my tongue, the glorious battle
Sing the last, the dread affray;
O'er the cross, the victor's trophy,
Sound the high triumphal lay:
Tell how Christ, the world's Redeemer,
As a victim won the day.
God, his Maker, sorely grieving
That the first-made Adam fell,
When he ate the fruit of sorrow,
Whose reward was death and hell,
Noted then this wood, the ruin
Of the ancient wood to quell.

Wherefore, when the sacred fullness
Of the appointed time was come,
This world's Maker left his Father,
Sent the heav'nly mansion from,
And proceeded, God Incarnate,
Of the Virgin's holy womb.
Thirty years among us dwelling,
His appointed time fulfilled,
Born for this, he meets his passion,
For that this he freely willed:
On the cross the Lamb is lifted,
Where his life-blood shall be spilled.
Faithful cross! above all other,
One and only noble tree!
None in foliage, none in blossom,
None in fruit thy peers may be;
Sweetest wood and sweetest iron!
Sweetest weight is hung on thee.
(from "Pange lingua gloriosi" by St. Fortunatus [6th c.], trans. John Mason Neale)
September 14th is the Feast of the Exaltation of the Holy Cross. In the Roman Liturgy, verses from the "Pange lingua gloriosi"are suggested as the hymn for Matins and Lauds. The "Crux fidelis," the last verse reproduced here, can also be sung for the solemn veneration of the relics of the True Cross.
✠
Image: Photo by Fr. Lawrence Lew, O.P. (used with permission)
Originally published in the Dominicana Journal
Collin Kourtz