Tag:
Eucharist
Sanctuary Lamp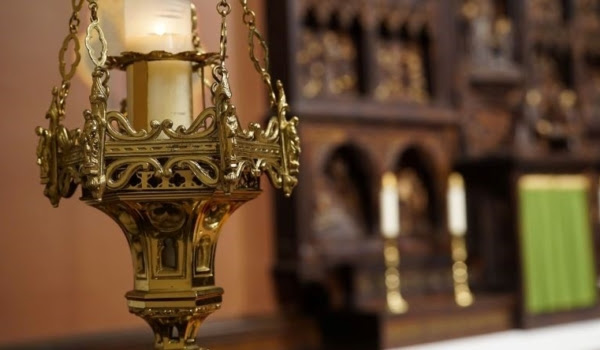 Signs are everywhere in our daily life. We look to signs as a way of navigating our daily lives. Oftentimes a sign seems to go unnoticed until it disappears, malfunctions, or is disobeyed. Consider a traffic light. It serves an important function in navigating city streets; without it chaos would ensue. Despite its role it is something that receives little attention and is easily taken for granted—that is, until it stops working. If a storm knocks out the power, the flashing yellow lights at a busy intersection can lead to the dangerous situation of hesitant drivers who no longer know what to do. Some signs require a certain amount of knowledge to understand; others seem pretty much universal, like a smile or a wave.
A Catholic Church is full of signs. The windows, paintings, statues, and altar all point to something greater than themselves. They remind us and direct us to truths that are not always immediately apparent, but which, by faith, we grasp as efficacious and important to our daily lives. Holy Water reminds us of the life and grace given to us in baptism. Statues of the saints evoke their gifts and remind us of their heavenly intercession. The crucifix reminds us of the ultimate sacrifice of Jesus Christ for our salvation.
Of all of the signs in a church there is one in particular that I propose is the most neglected, yet which is strikingly universal and irreplaceable in its significance. Next to each tabernacle reserving the Blessed Sacrament, there burns a steady flame, sometimes white, sometimes red, but always communicating the same thing: Jesus Christ—body, blood, soul, and divinity—dwells here. This is the only permanent sign in the church that, in a sense, could be considered alive. The flickering flame represents the burning love which gave us such a sacrament, such a presence among us, fulfilling Jesus' promise that he will indeed be with us always (Mt. 28:20).
The task of the sanctuary candle is remarkably simple, yet by its very presence it conveys a mystery beyond understanding. Such a simple thing, it is profoundly evangelical. It proclaims Christ's consoling presence among us, it communicates the efficacy of the Blessed Sacrament, and it designates the holiness of the sacred space. As Christians we are always striving to conform our life to Christ's and, in a way, we can also strive to be like this sanctuary candle. With a simple, faithful flame it proclaims Christ to those who look for his presence, whether during a weekly visit for Sunday Mass, or when in desperate need of the consolation of Christ's presence in a time of crisis. The simple candle has not the eloquence of the chalice, the altar, the reredos, or even the tabernacle whose presence it communicates. We too may find ourselves with a simple task, living a simple life, and perhaps wishing we had a greater task with more responsibility and attention. May we too let Christ shine in us so that we become as living flames signifying his presence to the world.
✠
Photo by Br. Benedict Hernandez, O.P. (used with permission)
Originally posted on Dominicana Journal
Dominicana
Eucharistic Concomitance and the Resurrection
admin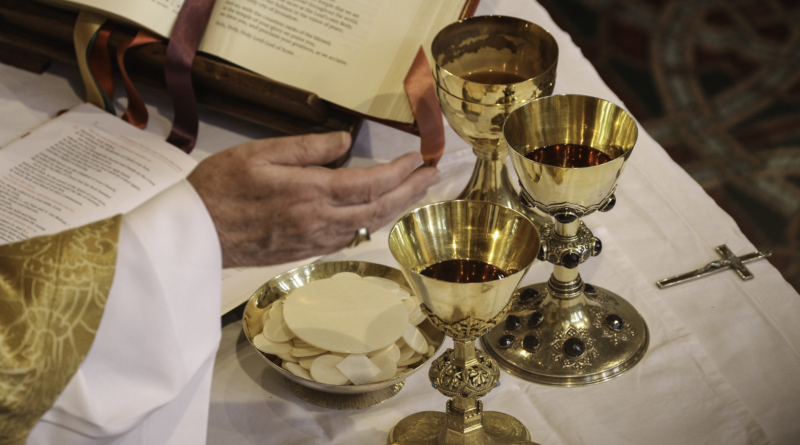 When we speak about Jesus, the "Lord of glory" who "became flesh and dwelt among us" (1 Cor 2:8; John 1:14), we often use rare words or phrases specially crafted to express the mystery of his being. Hypostatic union is one of them: the two natures of Christ are united in his one person. Consubstantial appears every Sunday in the Creed: the Father and the Son are one in substance. We would also do well to restore concomitance to our collective vocabulary. The doctrine of concomitance, taught in 1551 by the Council of Trent, captures a marvelous truth about the Eucharist and thus about Christ who "being raised from the dead will never die again" (Rom 6:9). During our nation's Eucharistic revival, thinking through concomitance can and will inflame our devotion to Jesus in the Blessed Sacrament.
At first glance, concomitance may seem simple. The Son of God becomes fully present—Body, Blood, Soul, and Divinity—under both sacramental species used at Mass. What used to be bread and what used to be wine are equally, substantially changed into our Lord by his own divine words. Only the species or "forms" of bread and wine remain. Therefore, according to concomitance, we do not receive "more" when we receive from both the chalice and the host, nor "less" if only from one. This doctrine is practically important especially when both forms are newly offered (or newly discontinued) for the communion of the faithful. In Holy Communion, the whole Jesus is always received under either form.
If concomitance is true, then why have two forms? The priest consecrates bread and wine separately in imitation of Christ, who did so at the Last Supper and told us to do what he had done. Christ gave his Body and Blood to the disciples separately precisely because this Body and Blood would soon be separated for them, in the free outpouring of his redemptive love. The Mass is a sacrifice because it is this one sacrifice, the unique sacrifice on the Cross. The daily offering of sacramentally separate Body and Blood reveals and makes present the one sacrifice of Calvary, so that we may all join in Jesus' self-offering to the Father.
While making present the awesome mystery of the Cross, the Mass never turns back the clock on our redemption. For Christ has only one body, and in the Eucharist precisely this human body is signified and offered. On the cross, Jesus' body and blood were separated. In death, his human soul was separated from both. But on the third day, for his and our glory, the one body of our Savior was raised and exalted, in the real re-union of his real humanity. This body ascended into heaven and sits at the Father's right hand. And it is this body that Christ offers us at every Mass.
Concomitance signals this reality. We receive the Body and the Blood separately, commemorating the Passion of our Lord. But we know by faith that Jesus Christ, the eternal Word with his assumed human nature whole, resplendent, and never more alive, now dwells forever in the glory to which he calls us. We cannot hear enough that it is this one, risen Body that we receive in Holy Communion, or that it is to this glory that it will lead us.
✠
Photo by Fr. Lawrence Lew, O.P. (used with permission)
Originally posted on Dominicana Journal
admin
Dominicana
Spiritual Hunger
dhsadmin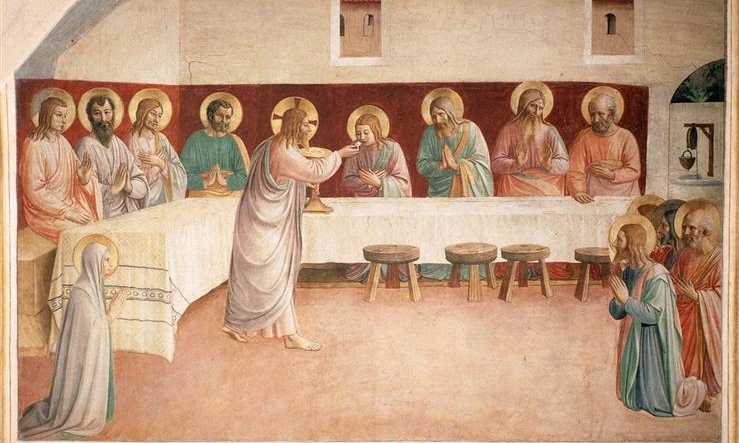 At a convent of the Missionaries of Charity, my mother once made twelve bags of food to give to the homeless. She and the sisters then went to one of their usual spots in my hometown to hand out the bags of food, where there were never more than twelve people. However, upon arrival my mother discovered that there were, not twelve, but thirty-six homeless. Panicking, she told one of the sisters that they should go to another spot because there would not be enough bags of food for the crowd. The sister replied that my mother should start praying the Memorare prayer. So the sisters and my mother gathered the homeless together, prayed with them, and my mother proceeded to hand out the bags of food. When the last bag was handed out, everyone had a bag in their hands.
This happened when I was a child, and because of it, the Gospel story of the Feeding of the Five Thousand has always struck a special cord in my heart. This story also seems to have hit a special cord with the Gospel writers as well, given that it is the only miracle that is recounted in all four Gospels (Matt 14:13-21, Mark 6:34-44, Luke 9:10-17, John 6: 1-14).
The evangelists knew the significance of this miracle story not only because the miracle itself shows the powerful and providential care of Jesus for his people, but also because of what Jesus is pointing towards in this miracle. This miracle points us to the Holy Sacrifice of the Mass, where Jesus' sacrifice at Calvary is presented and where Jesus gives his Body and Blood to the Church as the healing food for our souls. In fact, the Book of Revelation even shows us that the same liturgy we celebrate in the Mass on earth is celebrated in Heaven. Each Mass, we should call to mind the communion of saints and angels all around us.
This all came together in the most beautiful way during one of my summer visits home. I was at mass right next to my mother. I watched as a packed congregation on a Saturday noon mass came up for communion. I couldn't help but see us in the same light as the five thousand whom our Lord looked on with pity. Just as the five thousand were hungry for food, we were spiritually hungry for our Lord. As the apostles stood in the place of Jesus when they brought food to the five thousand, so the elderly priest stood in persona Christi as he slowly distributed the Eucharist from person to person along the communion rail.
Studying to be a priest of Jesus Christ, I can now see how, by reflecting on my mother's miracle story, Jesus was using that event to point me to something higher. God will always look with pity on his children and will always provide priests of Jesus Christ to offer up the eternal sacrifice of Jesus for the sanctification of souls. Let us remember that every time we come to mass, we are entering into the sacrifice of Jesus for our sins and pray for a renewed spiritual hunger for Jesus in the Eucharist. Blessed are those called to the Supper of the Lamb.
Image: Fra Angelico, The Institution of the Eucharist
Originally posted on Dominicana Journal
dhsadmin