Tag:
Liturgy
Now That's What I Call Advent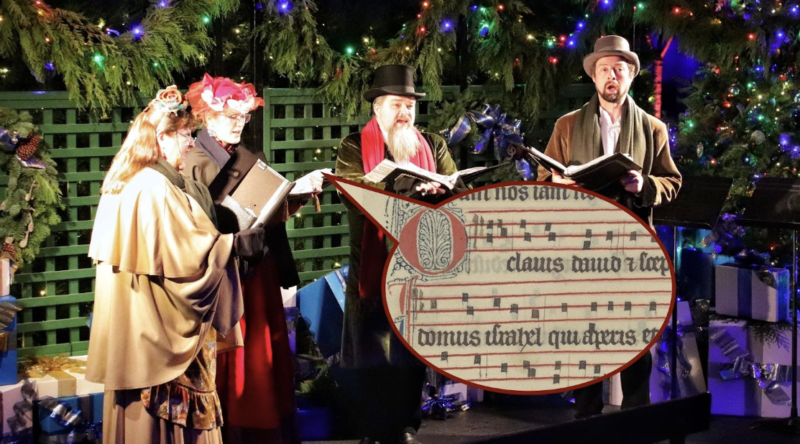 Do you hear what I hear? The streets outside permit no escape from this sound. Any refuge at home is invaded by a TV ad. Even the inner confines of your mind find no protection from that same string of notes playing over and over again. Of course, I speak of the four horsemen of Christmas: Bing Crosby, Burl Ives, Michael Bublé, and Mariah Carey.
Love it or hate it, Christmas music is perennially around. When we hear these songs (voluntarily or not), we get a sense of what the world thinks this season is about: Snow, Santa, Romance, Romance with Santa. There generally is nothing wrong with enjoying these songs (this author happens to be a big fan of Wham!'s "Last Christmas"). But occasionally something strange echoes from the Walmart loudspeakers: a song in Latin—about Jesus Christ! Gloria in Excelsis Deo! This "ghost of Christmas past" transcends the kitsch and reminds us of the true "chart toppers" of Christmas and Advent: the sacred music of the Church.
Enter the O Antiphons. These seven phrases, each calling upon a different name of the prophesied Messiah, solemnize Vespers (the Church's evening prayer) each night in the week preceding Christmas. Appropriate for the season of Advent, these antiphons do not anticipate Christmas Day with chestnuts and Jack Frost, but with contemplation of him who is coming into the world: "O Emmanuel, our King and Giver of Law: come to save us, Lord our God!" Their ornate and haunting melodies and rich theological meaning make them a group of "classics" that cloistered religious look forward to every year. The O Antiphons' yearly appearance makes them much like our favorite Christmas hits, but, unlike the sleighride songs, they have been popular for at least a millennium.
The question may arise: why celebrate Christ's coming with such solemnity, if he has already come into the world? Religious life, the cradle of liturgical chant, can help us find an answer. Saint Thomas writes that the contemplative life "bestows on us a certain inchoate beatitude, which begins now and will be continued in the life to come" (ST II-II, q. 180, a. 4). Like an honored family tradition that brightens Christmas cheer each season, the O Antiphons beckon the religious to grow closer to the Lord. They help us to contemplate the king "who is and who was and who is to come" (Rev 1:8) and remind us to ask for the grace to be prepared to meet him face to face.
Not all of us wear a habit or are in the habit of praying Vespers in a choral setting. But every year, our most secular of cultures offers us a unique opportunity to contemplate the greatest of mysteries. As strange as it is to hear "Christ the Savior is born" as you try to find the best (or cheapest) candle at TJ Maxx for your nephew, it can turn into an example of God's inescapable grace. Take to heart those words that faintly sound through the store, and ask for that grace to be prepared to meet him when he comes. Who knows, you may even hear the O Antiphons hidden away on that playlist.
O King of all nations and keystone of the Church: come and save man, whom you formed from the dust!
✠
Photo by Mario Mendez on Unsplash; Image: Antiphonaire dominicain, O Clavis
Originally posted on Dominicana Journal